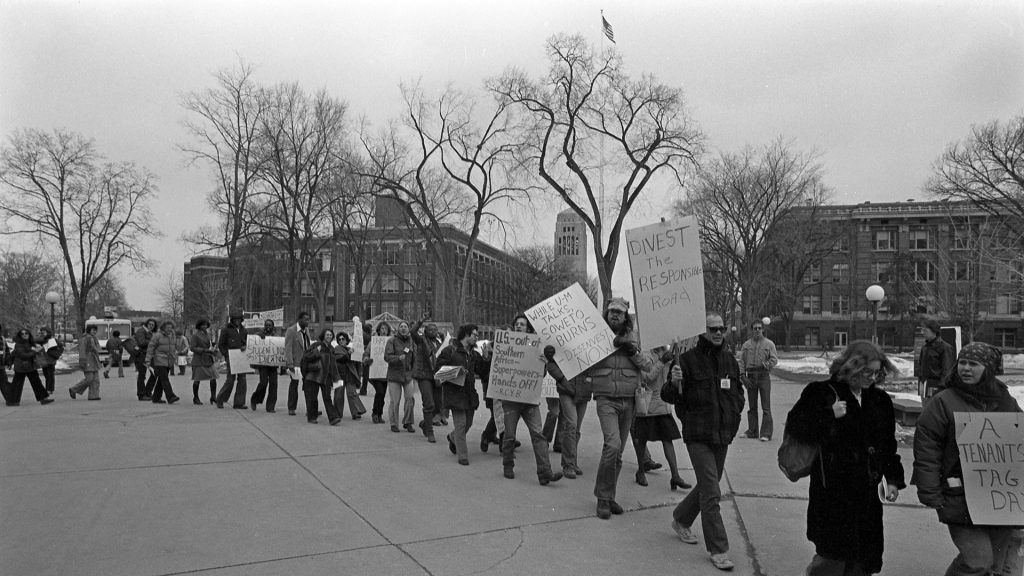 From the mid 1970s through the late 1980s, students and faculty at the University of Michigan participated in the nationwide campus-based protest movement against university investments in corporations with ties to apartheid South Africa. "Divestment for Humanity" explores more than a decade of anti-apartheid activism at the University of Michigan, with close attention to organizations in the surrounding Ann Arbor community, political developments in the state of Michigan and at the national level, and events at other campuses across the country.
"Divestment for Humanity: The Anti-Apartheid Movement at the University of Michigan" is one of the inaugural iterations of Michigan in the World (MITW), where students develop online public exhibitions about the history of the University of Michigan and its relationships with the wider world. This exhibit was created by a team of five undergraduate students during the Winter 2015 semester in History 497: "Global Activism at U-M: The Anti-War, Anti-Apartheid, and Anti-Sweatshop Movements." MITW is now offered as an extracurricular, paid undergraduate internship program
MITW is coordinated by the U-M History Department in partnership with the Bentley Historical Library and the College of Literature, Science, and the Arts.
Project Team
Bentley Michigan in the World Fellows: Emily Bodden, Mario Goetz, Emilie Irene Neumeier, Aaron Szulczewski, Leslie Teng
Faculty Coordinator: Matthew Lassiter
Public Engagement Manager: Gregory Parker
Author
Aaron Szulczewski, Emilie Irene Neumeier, Emily Bodden, Leslie Tang, and Mario Goetz
Contributor
Gregory Parker and Matthew Lassiter
Department or Unit
History
Support Partners
Bentley Historical Library and LSA Technology Services