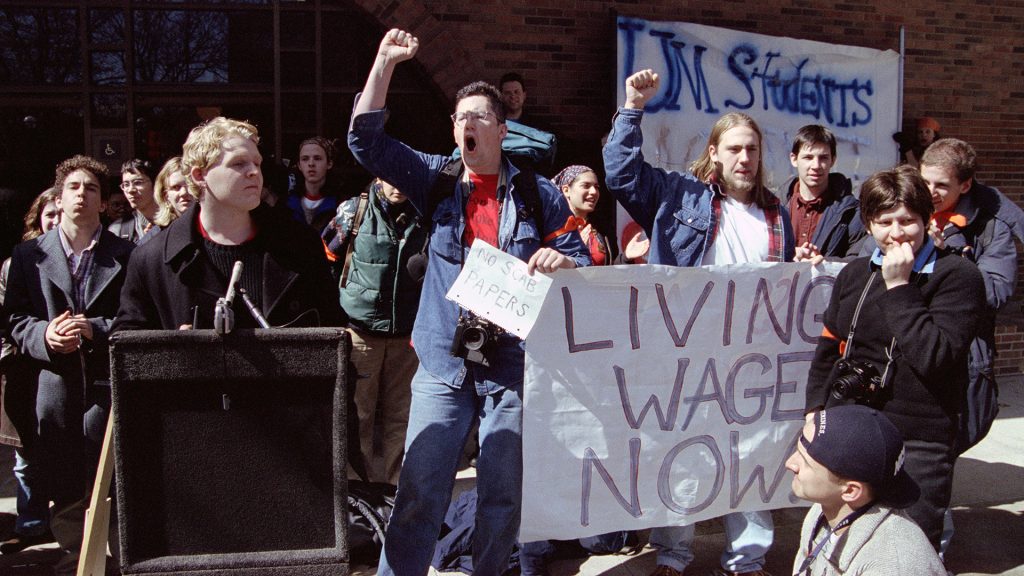 "Ending the Business of Injustice" focuses on the history of anti-sweatshop activism at the University of Michigan. This website combines oral interviews, news and academic journal articles, and never before seen documents from the office of the president of the university to construct a narrative on this critically important period in the university's history. While the exhibit focuses on the movement as it developed in Ann Arbor, it will also provide key insights into the nature and origins of anti-sweatshop activism across the United States.
Ending the Business of Injustice: Anti-Sweatshop Activism at the University of Michigan, 1999-2007" is one of the inaugural iterations of Michigan in the World (MITW), where students develop online public exhibitions about the history of the University of Michigan and its relationships with the wider world. This exhibit was created by a team of three undergraduate students during the Winter 2015 semester in History 497: "Global Activism at U-M: The Anti-War, Anti-Apartheid, and Anti-Sweatshop Movements." MITW is now offered as an extracurricular, paid undergraduate internship program
MITW is coordinated by the U-M History Department in partnership with the Bentley Historical Library and the College of Literature, Science, and the Arts.
Project Team
Bentley Michigan in the World Fellows: Ira Brandon III, Mary Bridget Lee, Alec Ramsay-Smith
Faculty Coordinator: Matthew Lassiter
Public Engagement Manager: Gregory Parker
Author
Alec Ramsay-Smith, Ira Brandon III, and Mary Bridget Lee
Contributor
Gregory Parker and Matthew Lassiter
Department or Unit
History
Support Partners
Bentley Historical Library and LSA Technology Services