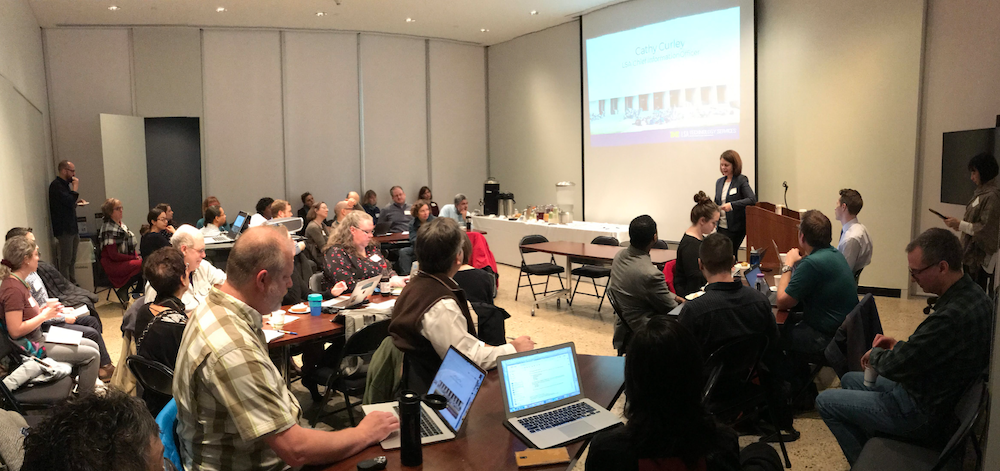 Join us as we engage in a lively discussion focused on Digital Humanities/Digital Scholarship/Digital Studies. This event will offer a series of lightning talks and a panel discussion that showcase several faculty involved in DH/DS projects. Participants will reflect on the potential of and challenges related to digital scholarship and its role in teaching, research, and publishing. In other words, how do you find the people or resources to calibrate ambitions and expectations and talk through core needs and issues of labour? There will be opportunities for informal conversation and networking with peers since a goal of this event is to generate awareness and strengthen connections among scholars and support partners. Sponsors for this event include U-M Library, LSA Technology Services, U-M Press, UMMA and others.
When: January 23rd, 8:30 a.m. – noon
Where: UMMA Multipurpose Room
Who: Scholars doing or interested in doing Digital Scholarship, and their support partners (IT, Library, etc.). The event is being organized by U-M Library, LSA Technology Services, U-M Press, UMMA, and others.
What: An event to showcase a few specific U-M Digital Scholarship projects as well as network with peers. It will have a round of lightning talks followed by a panel discussion and will wrap up with some time to network.
Why: To generate awareness and form or strengthen collaboration between scholars and support partners in the Digital Scholarship space.
Registration & more info: https://ttc.iss.lsa.umich.edu/ttc/sessions/connecting-digital-scholarship/
Digital Scholarship consists of ". . . new ways of doing scholarship that involve collaborative, transdisciplinary, and computationally engaged research, teaching, and publishing. It brings digital tools and methods to the study of the humanities with the recognition that the printed word is no longer the main medium for knowledge production and distribution" (Wikipedia).