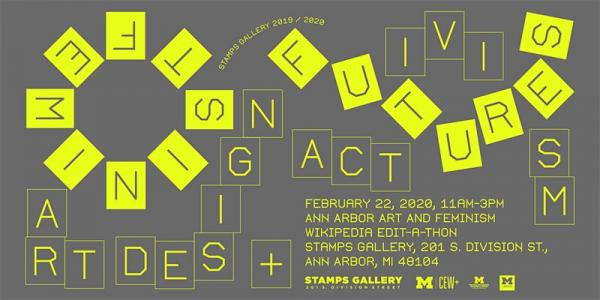 The Art+Feminism Wikipedia Edit-a-thon is a global campaign to improve representation of cis and transgender women, feminism, and the arts on Wikipedia. It is a communal editing event that focuses on recognizing the accomplishments of women and non-binary people and collectives in arts and activism. There will be a talk and live DJ set by Detroit-based artist, educator and community organizer, Mother Cyborg. It is presented in partnership with the U-M Libraries.
About Mother Cyborg
Born in Chicago, raised in the small town of Frankfort, Indiana, transplanted to Detroit in 2008 38-year-old Diana Nucera is Mother Cyborg. Nucera's day job involves working in accessible technology education, and she has a background in teaching high school students in media and audio production and is the director of the Community Technology Project. Her stage name is Mother Cyborg. She DJs under the same name at her monthly gig at Temple Bar, appropriately named Temple of Cyborg.
Detroit has influenced the way in which she sees and think about the future, mainly because people are working with what they have, envisioning a future that they literally have to make themselves. Maybe it's because she came out of the DIY punk movement, but that feels good to her. She says, "Let's make our own future and not have Apple make it for us."
About the Feminist Futures: Art, Design & Activism Event Series
Feminist Futures: Art, Design and Activism is an ongoing event series exploring the role of feminism in art, design, scholarship, and politics. The series brings together multigenerational artists and thinkers in contemporary art, design, art history, and related fields who have shaped, and are shaping, current discourses on gender and the fight for equality.
Feminist Futures: Art, Design & Activism Series is organized by Stamps Gallery and co-sponsored by the Center for the Education of Women+ (CEW+) Frances and Sydney Lewis Visiting Leaders Fund with support from the Institute for Research on Women & Gender (IRWG) and U-M Libraries.
Design by Ouliana Ermolova.