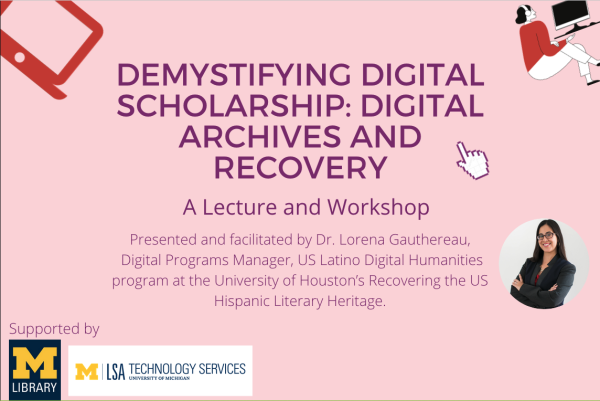 Collecting and curating digital artifacts for an online collection or archives can unearth many ethical questions or dilemmas. Lorena Gauthereau, University of Houston, will talk us through considerations for digital repatriation as well as community-engaged and human-centered approaches to digital collections. After her short lecture she'll facilitate a workshop on applying these considerations in Omeka S, a popular platform for creating and hosting digital collections, archives, and exhibits. You'll be provided with a login to a live Omeka S instance where you can follow along with the workshop.
Sorry, but registration is now full. Email library-ds@umich.edu to be added to the waitlist.
Dr. Lorena Gauthereau is the Digital Programs Manager for the US Latino Digital Humanities program at the University of Houston's Recovering the US Hispanic Literary Heritage. She teaches interdisciplinary courses through UH's Center for Mexican American Studies and is currently a fellow for the Rare Book School and Andrew W. Mellon Foundation Fellowship for Diversity, Inclusion & Cultural Heritage. Previously, she served as a CLIR-Mellon Postdoctoral Fellow. Gauthereau received her PhD in English literature and her MA in Hispanic Studies, both from Rice University. Her research interests include Chicanx studies, US Latinx studies, digital humanities, affect theory, and decolonial theory.